TikTok Success Strategy 2023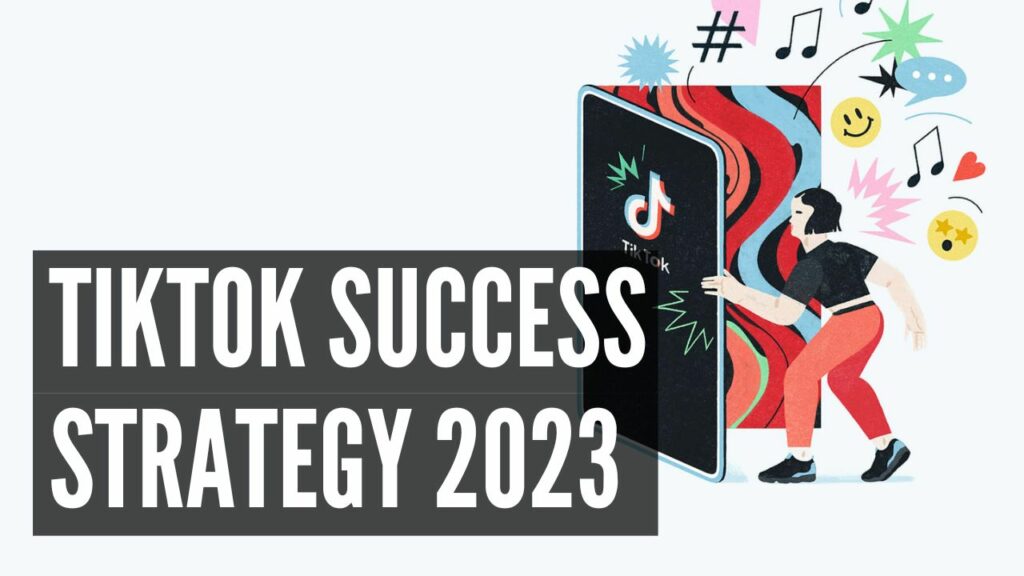 TikTok Success Strategy 2023
TikTok is changing every year. A strategy that worked in 2022, is not a guaranteed success in the next year. What strategy for TikTok is working in 2023? TikTok is growing every year. It has over 1 billion active users every month. If you are not on TikTok as a brand / influencer, this is your call to sign up!
In this article, we will give you the success strategy to get more views, engagement & followers.
Content
Just like very other social media platform, content is key on TikTok. Your content needs to be outstanding; what makes you different from other millions of users? Creating viral content, is the first step of a succesful TikTok strategy. Those are the best content tips you can apply to your account:
Start with a hook: your first seconds of the video need to grab the viewer's attention. If not, the viewer will scroll & you lost a potential follower. The first seconds are perfect to showcase what the video is about.
Fish for comments: comments are food for the algorithm. The more comments, the better your video will perform. You can ask a question in the video, in the caption or in the comment section. Be creative! There are plenty of ways to generate comments. Answering comments, will boost your relationship with followers & create a good vibe for others to comment.
Reply content: create a new TikTok post out of comments. Replying to comments in video format, is a great way to create more interaction with your viewers.
Post at active times: posting at active times, will boost your engagement. According to Influencer Marketing Hub, those are the best posting times:
Monday: 6 AM, 10 AM, 10 PM Tuesday: 2 AM, 4 AM, 9 AM Wednesday: 7 AM, 8 AM, 11 PM Thursday: 9 AM, 12 AM, 7 PM Friday: 5 AM, 1 PM, 3 PM Saturday: 11 AM, 7 PM, 8 PM Sunday: 7 AM, 8 AM, 4 PM
Use Trending Sounds: scroll through your timeline & find out what sounds are going viral at the moment. Good chance, those sounds will do well for you content as well.
Trends: trends also include video formats. Trends can be challenges, #storytime, pranks, tutorials, etc.
Short and clear: your content does not need unnecessary information, delays. The tension arc of TikTok viewers is low, keep them interested. Avoid uninteresting parts at all times!
Gain Followers
Now you know how to create viral content, it's time to convert your viewers into followers. That's step 2 of the TikTok succes strategy. Use the following tactics to convert viewers into followers:
Professional profile: make your TikTok profile as professional as possible. You can use different angles. Ask yourself: "is it clear what content followers can expect when they follow me?". Usually if the answer is "yes", you have a great profile.
Playlists: with playlists, you can create 'series' on your profile. If you have different succesful playlists, people will be more eager to follow you.
Pinned posts: the perfect feature to show your most viral content. Pinned posts are sticking to your TikTok profile and will be the first posts visitors find. Often TikTok users pin their posts with most engagement, as they have proven to be working.
Post covers: for each TikTok post, you can use a cover. This will show the content. Having eyecatching post covers, will people be more eager to click on the videos & convert to more followers.
Create a Loyal Following
Where increasing views, engagement & followers is nice, it's not everything. After all, an audience is not useful if they're not loyal / engaging with you or your content. That's why it's important to create a loyal following. You can use the following strategies to build a loyal following:
Story posts: story posts are a great way to engage with followers. They're temporarily posts on your profile and you don't need to think too much about the content. Show the day in your life, behind the scenes, completely different content, etc. Stories are great to let your followers know you.
Comment section: use the comment section to create a relationship with followers. Engage with comments, ask them things back, etc. This all, will make your followers think you're a genuine person. After all it's social media; it's not all about pushing content but also being social with people.
Live: the live feature on TikTok becomes avaiable after you hit 10k followers. It is perfect to build a relationship. Do a Q&A, go live with followers, etc. The options are endless. A great plus: you can also earn money by going live.
TikTok Strategy 2023
While all those tips & tricks are very helpful to grow, the TikTok audience changes every day. Make sure that you are aware of trends, be consistent & push a lot of content. Give your viewers a reason to follow you. In the end, everyone on TikTok is looking for educating and entertaining content. By following all the given tactics, I am sure you will be a success on TikTok in 2023. Don't wait & start today!